Creating the Perfect Student Bedroom on a Budget
---
28th February 2019
One of the best things about moving into student accommodation can be [finally] getting your own space and independence, somewhere you can create your own space that you can relax in without any interruptions from siblings and parents.
Sounds good, right?
Except sometimes our expectations of what it will be like to have our own space can differ from the reality. Student accommodation can sometimes be a little drab and dreary, and with a student budget, it can soon take away the excitement of moving in.
Well, fear not, we have put together some hacks for creating a homely, instagram-worthy, student living space; on a student budget.
Storage, Storage, Storage!
One of the things you will realise when you move out of your parents house is that, you have SO MUCH STUFF! Honestly, it's like your clothes reproduce in your wardrobes and you'll find things you haven't seen for about 10 years. So, first of all, when packing we suggest having a purge of your belongings because once you move into your student accommodation you're going to quickly run out of storage space.
There are a lot of things you can do now to save space. You've watched Marie Kondo, right? If not, go and watch it, that woman has some great tips for storage! Aside from that we have some other great tips to help you make the most out of your limited storage space.
1) Use drinks can tabs on your hangers to save wardrobe space. You can't get a cheaper space-saver than that!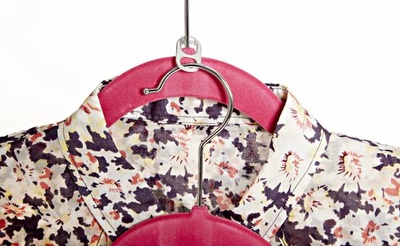 2)Use drawer separators. These are a really cost-effective way of helping you save space whilst keeping all of your items of clothing and accessories organised. Ikea are the queens of storage solutions, so they're bound to have something to suit your space and needs and who doesn't love an excuse for an Ikea trip?!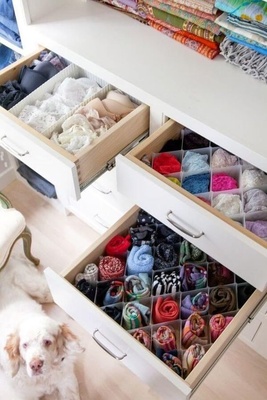 3) Use the space under your bed. If you have space under the bed, use it! You can get cheap storage boxes from places like The Range, Asda, B&Q, Ikea, etc. that are perfect for storing the stuff like your books, or things you're not going to be using a lot, and they slide right under bed, out of the way.
4)Utilise the wall space. Using things like storage cubes, hanging on the wall*, can be the perfect solution when you have limited storage space in your bedroom. They are also a great way of modernising your room, without breaking the bank! You could even get creative and paint them in your favourite colours to brighten up your room.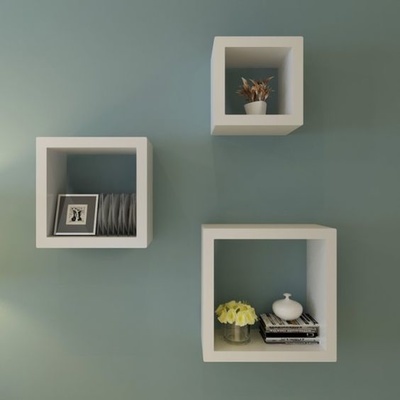 *make sure to check the rules about hanging things on the walls. If your letting agents or landlord aren't happy with you putting nails in the wall, there are plenty of solutions you can try without using nails such as Command strips or Unibond products.
Organise Yourself
Having an unorganised room can affect how you feel when you're in that room, especially when you will more than likely be quite limited on space. Your student room is going to be the place where you do a lot of your studying, and therefore, it needs to be a place where you feel comfortable, relaxed, and can focus; having an unorganised space can be extremely distracting.
So, make sure you create and set a place for everything. That way, you know where everything is when you need it, and it will encourage you to keep things tidy. Shops such as Ikea, Amazon, and eBay have plenty of organisation solutions to suit your style, and better still, to suit your budget!
We love these multi-purpose hangers from Ikea! They're perfect for hanging scarves and accessories on the back of a door to save space, and they're only £3!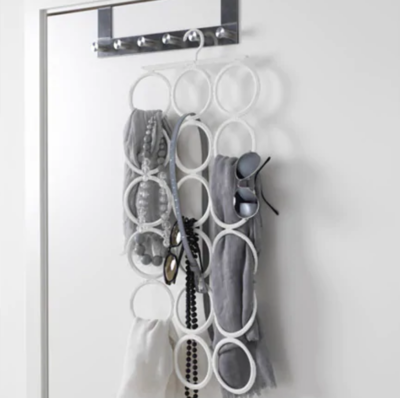 Study Area
Creating a dedicated study area in your space is so important! There will be days when you want to kick back in bed with your laptop to do some uni work, and that's ok, but you will massively benefit from having a small space in your room for you to do work.
>Take a look at the range of office and writing desks in Ikea, they have so much to suit most spaces and budgets, so you can't go wrong!
You can have tons of fun personalising your work space, with cool pin boards, photo frames, your favourite books, artwork, basically, whatever you want; it's your space!
1) Pinboards. Use pin boards to pin up your favourite motivational quotes, photos of you with your friends and family, reminders for assignments, lectures, and meetings. You can be really creative with what you display to give a personal touch to your work space.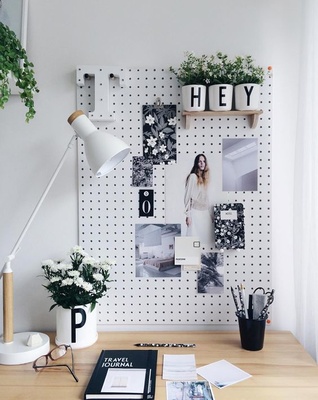 Not in your budget? Why not try and make your own pin board. Find an old frame that maybe your parents don't use, or take a look in some charity shops, add a piece of fabric to the frame, and voila  you've got yourself a DIY pin board. Paint the frame in any colour you like and add some coloured pegs to add your own personal touch.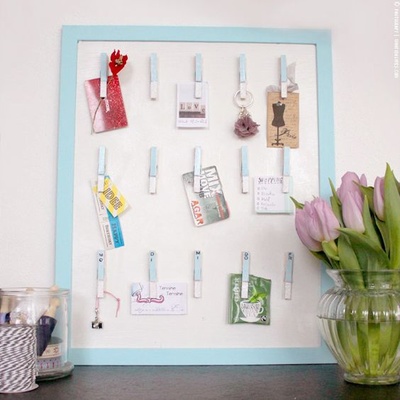 2) Drawers. Try to make sure you have everything you need available to you whilst at your desk space. Shelves above your desk are a good way of storing the books you may need however, if this is not possible in your student property, having a small set of drawers in your desk space is a great way of storing your books, as well as any stationary, etc. you may need for studying.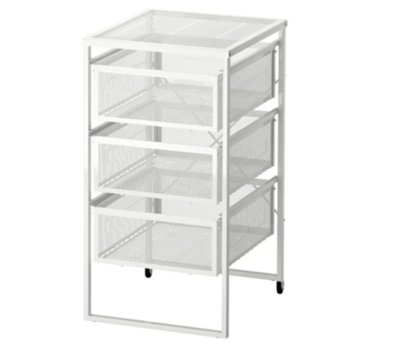 This drawer unit from Ikeaare ideal for your student property study area. They look modern, they are small enough to be tucked under your desk, and they're on wheels so, for those days when you want to study in bed, your stuff can move to you!
The best part? These are just £10!
3) Personal touch. You want to create a study space that you are going to be comfortable being in, but with minimal distractions. Add some plants (aloe vera plants have some great benefits, and they look pretty cool), add a lamp to create a cosy atmosphere for evening studying, as well as some frames with a couple of motivational quotes, or your goals, for those times you need a bit of an inspirational boost.
Iconic lights have a wide range of cool desk lamps to choose from, at pretty affordable prices, like this industrial-style concrete lamp for just £13!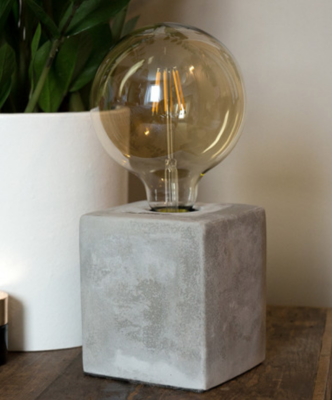 4) Limit distractions. This can be quite difficult when your in one small space, like your student bedroom, however, there are ways in which you can limit the distractions in your study space. The things we have mentioned above like lighting, storage for your study supplies, etc. are all things that will help you to be less distracted. Also, making sure your TV isn't easily watchable from your desk space reduces the temptation to watch a few episodes of Friends whilst trying to write a 10,000 word assignment. You could also try having a small radio on your desk, instead of listening to Spotify/iTunes through your phone, to reduce the distraction of using your phone to skip songs every 5 minutes.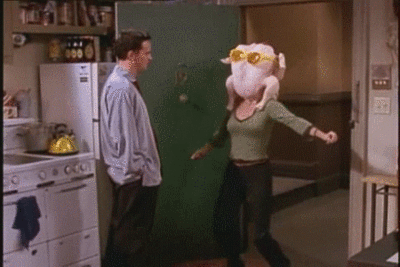 Make it Your Own
Your student accommodation is going to be your home for at least the next year, so when you move in, it's so worth spending a bit of time to make things feel more homely by putting your own stamp on your space.
1) Photos. I know a lot of us just tend to have endless photos stored on our phones now, but having some photos of your friends and family printed off to have on display in your room only costs pennies, and they can give you such a sense of comfort, when you're away from home. And there are loads of cool ways you can display them in your new room!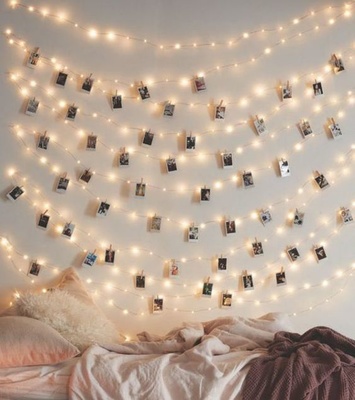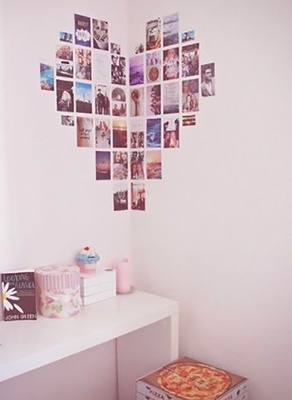 2) Soft furnishings. Adding cushions and throws to your room will make a huge difference! Get some in your favourite colours and patterns to make your room your own. Primark are becoming really big on their homeware ranges, and have loads of cushions and throws to choose from at bargain prices!
3) Plants and flowers. Having plants and flowers can brighten up any room, but we understand the cost of having to constantly replace flowers every 1-2 weeks, or having to remember to water a plant every other day. When, some days, you can't even remember what lectures you have, remembering to water a plant in your room is definite no, no! That's why artificial plants and flowers are all the rage now. They look great, they brighten up your room, and they require zero maintenance.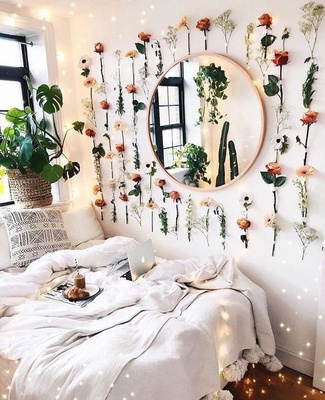 4) Wall hangings. Student accommodation, or most rental properties in general, will typically always be painted in magnolia or white, which can make the room feel a bit hospital-like. So, why not use wall hangings such as macrame, or a large tapestry to cover those miserable walls, and bring a bit of life to the room. eBay and Amazon have some cool bohemian-style or mandala tapestries for around £10-£15, or why not take up a new hobby and learn how to make macrame hangings yourself (check out YouTube for tutorials!)?!
We hope we have given you lots of ideas and inspiration to go away and start planning your awesome new student room, and with the added bonus of not having to break the bank in the process!
If you have any cool hacks you've used in your student accommodation, or you've decided to use any of our ideas in your space, we would love to see them! Post a picture of your student digs and tag us on Facebook @DEUESTATES