Property Prices in Student Areas of Leeds have gone down
---
31st October 2017
By Jaskaran Deu, Director, Deu Estates
I recently read an interesting article published on the BBC in regards to the property market in the United Kingdom.
They state that in 58% of wards; residential properties are selling much less than they were selling for in 2007 with these figures taking into account inflation.
Interestingly; according to the statistics, the BBC have released this information which includes the Hyde Park and Headingley area.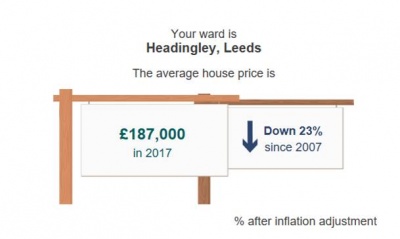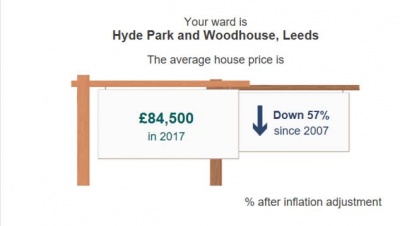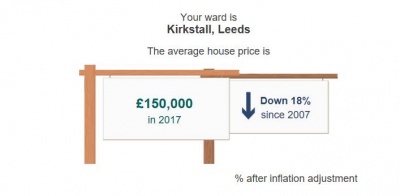 Investors in the Hyde Park area may argue these statistics are quite the opposite. Rental figures in the Hyde Park area are increasing and yields on property sales are edging towards 6-7%.
We have investors who are willing to put in £50-60k a bedroom. This was unthinkable only a few years back but as many of these investors are now coming from London & the south, they are priced out of the market in their home towns – investment properties in the North are much more attractive.
The majority of the investors are cash buyers, and see a return of 6-7% - far better than collecting dust in their bank.
So why are house prices down?
Speaking to fellow landlord and agents, the only explanation I can think of was the due to the ex Morris Properties scandal.
People based all around the country were buying properties at very inflated price. The Properties were split up and over intensified. The properties were somehow granted mortgages, before the market crashed.
It wasn't long before these very properties were repossessed as the investors were unable to meet mortgage payments. And unable to achieve the rents, which were achieved before the purchase of the property.
One landlord bought a house in Armley, for £225,000 in Sep 2005. A property almost identical has been recently listed on the market at £100,000 - which is likely to sell for even less than that value.
A property on Talbot Mount was sold in Sep 2004 for £230,000. We bought that same property for £89,000 in Dec 2013.
As previously mentioned, the properties were over intensified, with some rooms only being single bedrooms. This is unthinkable in today's market. Why were they rentable then? There was lack of student accommodation back then, and Purpose Built Student Accommodation, was just in the planning stage.
There are plenty more of these cases. So it leads me to believe this could be the only possible explanation for the statistics that have been provided by the BBC.
If you are wanting any rental advice, please don't hesitate to contact us by emailing lets@deuestates.co.uk